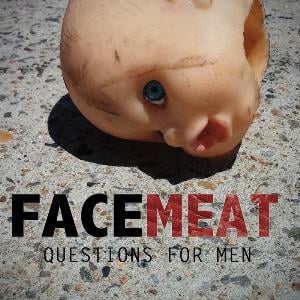 Wow, otra placa debut increíble, monstruosa y australiana.
Facemeat es lo que habría hecho Zappa si hubiera vivido para componer Slungcore. Fuerte aseveración pero creo que lo resume perfecto. Poderoso, agresivo y atiborrado en su sonido, el álbum halla un (in)sano equilibrio en las letras sardónicas y el mood muchas veces amigable de los temas, que como en realmente pocos discos no dejan descanso al caracol ni a la excitada mente que rebosa de otredad y venganza vecinal.
Si les gusta lo que ven aquí abajo, corran a por ello porque se acaba. Todo se acaba para siempre y nunca vuelve. Nunca.
Facemeat - Questions for men (2015)
Tracks:
1. Compliments To Your Band (4:55)
2. My Wife and Children (3:52)
3. Dude Disco (5:13)
4. Your Special Day (6:54)
5. Questions For Men (2:24)
6. Seven Days (5:57)
7. Hanging From A Line (7:44)
8. In Time (4:34)
9. I Shouldn't Have Killed You (4:09)
10. Keller (6:16)
11. Need You To Not (5:31)
12. Seven (2:04)
13. Big Noight Blues (2:21)
Line-up:
Adam Moses / vocals
Dave Sattout / guitars
Ruth Wells / tenor & soprano sax, vocals (8)
Byron Mark / piano & keys
Ellen Kirkwood / trumpet, backing vocals (8)
Josh Ahearn / bass
Miles Thomas / drums
Ian Pieterse / baritone sax (4, 10)
Damian De Boos-Smith / cello (8)
meat
Greco Bastián Después.
grecobastiandespues@gmail.com
WhatZappa 7441 296432